When Garth's Brew Bar opened its doors in December 2019, one of our main goals was to increase visibility of local craft breweries. While offering their beers on tap or in our reach-in cooler is one way to do that, we knew actually brewing with them would take things to the next level.
While we're not a brewery, we strive to support local breweries across America. By collaborating on beers together, we can better educate ourselves and our guests about the ever-innovating brewing process and the stories behind the breweries.

When you get a beer at Garth's Brew Bar, it's being served by someone who not only loves craft beer but truly understands the impact that a single pint can have on a community. We believe in truly seeing craft beer from concept to keg.
Below you'll find a list of the collaboration beers we've made with breweries that hold special places in our hearts. Our goal is to collab with breweries regularly enough that we always have something on tap or in the cooler that we can humbly talk about.
Sidehustle Saison
Working Draft Beer Company – Madison, WI
Saison, 7.9% ABV
Released: December 2020
When we got together to talk about a collab beer, we shared a very famous Saison from a Colorado brewery and thought to ourselves "we could make this and maybe we could make this even better." We set out to blend Belgian and French Saison yeasts with a bit of dry-hopping to give it notes of apple, pear, meyer lemon and pink peppercorns.
"We wouldn't have wanted to start our collab beer process with anyone else other than Clint, brewmaster at Working Draft. Adding a dry-hopping phase to this saison made it a beer experience that you couldn't easily find around town." – Garth, Garth's Brew Bar Owner
See what folks are saying on Untappd.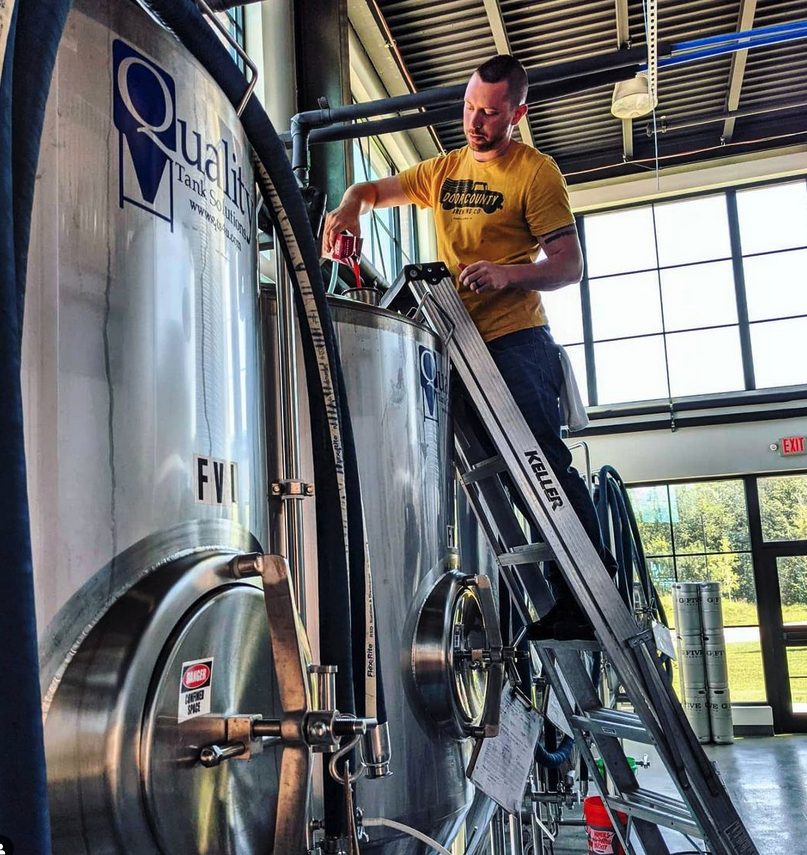 Bramble Brawl
G-Five Brewing Co – Beloit, WI
Fruited sour, 5% ABV
Released (First edition): September, 2021
Released (Second edition): April, 2022
Bramble Brawl is a fruited sour packed with berry goodness – blackberry, strawberry, raspberry, and blueberry. It also features a hint of cinnamon and vanilla, which mellows the sour. The end result is a fruity, tart, slightly hazy and light beer. It's a guest favorite, so naturally we had to brew it again.
"We called it Bramble Brawl because it was a fight to get this beer where we wanted it. I started off by spilling a few gallons of fruit puree all over the fermentor – missing the funnel entirely. Then we made it too tart. Then too sweet. Then it refermented. But after a long hard fight, we packaged something we were really proud of." – Garth, Garth's Brew Bar Owner
See what folks are saying on Untappd.
Tales From The Cup
Oliphant Brewing – Somerset, WI
Mocha Porter, 6% ABV
Released: October 2021
A light porter featuring chocolatey malt, coffee, and cocoa nibs. Porters and stouts tend to be heavy and fill your stomach. Our goal with Tales From The Cup was to make a lighter, more drinkable porter that livens your spirit up with coffee. Even with the addition of cocoa nibs, it's not overly sweet.
"I'm not much of a dark beer drinker, but what I love about Tales is how sessionable it is. It has a great roasty flavor and goes down like a cold brew coffee. The Oliphant crew was a blast to hang out and brew with. The can art also turned out great. It's a sketch of Garth holding a chalice, in the vein of the Cryptkeeper from the 1990's horror show

Tales from the Crypt

." – Erik, Garth's Brew Bar Bar Manager
See what folks are saying on Untappd.
Jubilee Kölsch
Lupulin Brewing Co. – Big Lake, MN
Kölsch, 5% ABV
Released: December 2021
The word "jubilee" means "a special anniversary." We brewed this one to celebrate the bar's two-year anniversary. A bright, bubbly, lightly grain-sweet beer. There's a very subtle fruit and hop character from the yeast, but also incredible clarity to the beer from fermenting it at a cooler temperature.
"Aaron, brewmaster, and team really couldn't have made it more fun for us. From letting us struggle to butterfly clamp some hoses to working up sweat pulling spent grain out of the tank to sampling every beer off their 30+ taps. We had as much of a party brewing our anniversary beer as we did tapping it for our anniversary party!" – Garth, Garth's Brew Bar Owner

"Brewing the Jubilee Kolsch with Lupulin Brewing Company as part of Garth's Brew Bar second anniversary was a fantastic experience. The team was welcoming, knowledgeable, and shared many samples of their wonderful work with us. In brewing, I was most excited about getting into the milling room and assisting with brew water chemistry. The final product is a wonderfully crisp and refreshing beer that appropriately matches the excitement of our anniversary." – Nick, Garth's Brew Bar Beertender
See what folks are saying on Untappd.
Picture Of A Picture
Sahale Ale Works – Grafton, WI
Munich Helles, 4.7% ABV
Released: April 2022
This one is light, slightly hazy, and a little zesty. It keeps true to the tradition of German Helles lagers, relying on the smooth sweetness of the malt with a very light herbal hop flavor and crisp bitterness and slightly spicy aroma. The perfect summer beer that's soft, but supported on the palate.
"Joining Garth and Erik on the Sahale Helles Lager collab was awesome! I first found my passion for craft beer by trying different styles, but I did not know much about the brewing process. It was really cool to see the full process from grain mashing to the boil to the fermentation." – Sean, Garth's Brew Bar Beertender

"Head Brewer Matt Hofmann was great to brew with. He has a ton of experience with large breweries, but his brainchild Sahale (rhymes with koala) is quite small. He went from largely automated brewing to being extremely hands-on at Sahale. He was adamant that brewing is not necessarily all about specifics. Instead of painstakingly measuring every step, he combines science with his experienced gut and palate to know what works and what doesn't. He's proof that brewing is as much an art as it is a science." – Erik, Garth's Brew Bar Bar Manager
See what folks are saying on Untappd.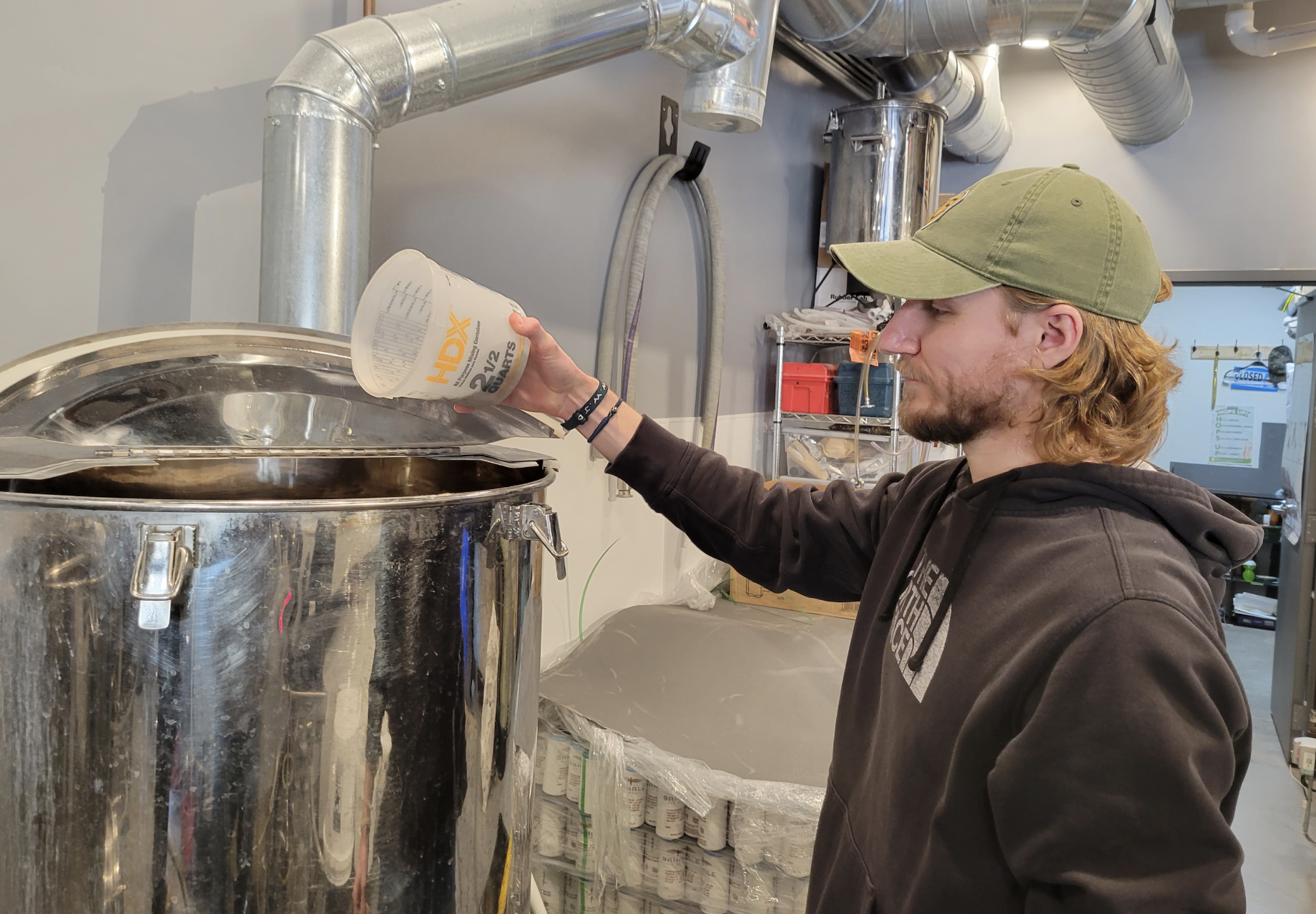 Three Quarter Ton

Tumbled Rock Brewery and Kitchen – Baraboo, WI
Weizenbock, 9.5%
Released: June 2022
The name "Three Quarter Ton" is a reference to the roughly 1,500 pounds of grain we poured into this weizenbock. It was our first shot at this style of beer – previous collabs have featured far less grain – but it was worth the effort. We ended up with a slightly boozy, dark, yet oh-so-drinkable beer.
"Head Brewer Erica DeAnda is a ton of fun. Perhaps the coolest part was learning about Erica's tradition of making "hot scotchies" while brewing. As the wort is being filtered out of the mash tank, Erica grabs a small mug of it, then adds a bit of whisky (or scotch).

Super delicious, and it was fun to taste the beer in the middle of the brewing process. The food at Tumbled Rock is also great. Definitely worth a stop if you're in the Baraboo area." – Erik, Garth's Brew Bar Bar Manager
"We're used to tossing bags of grain into mills at each of the breweries we visit, but not as much as we did at Tumbled Rock. We threw three quarters of a ton of grain to brew this malty Weizenbock. Sure, we were sore, but nothing a little hot scotchie couldn't cure." – Garth, Garth's Brew Bar Owner
See what folks are saying on Untappd.
Damn It Feels Good to be a Dankster

608 Brewing Company – La Crosse, WI
West Coast IPA, 6% ABV

Released: TBD

For this beer, we teamed up with Brewmaster Phil Humphrey to kick it a little old school and make a true West Coast IPA – but this time, more drinkable at 6% abv. Featuring Columbus, this one is crisp, bitter, and piney.

Editors note 6/12: Due to some bad yeast, this beer produced too many off-flavors that we had to dump it. We'll be rebrewing it for a relaunch soon!
"Brewing with the folks at 608 Brewing was a fun and insightful experience. Getting to taste and mill the grain used in the mash was a cool insight into how color and malt flavors are added to beer. Scooping hot spent grain out of the mash tub gave me a new appreciation for how brewing is really hard and sometimes sweaty work. Learning about how hop additions early in the boil are for bittering, and later additions are for flavor/aroma will be useful when talking to our guests about our brew. Finally, I never knew that gelatin could be used to clarify beer! Overall the experience was super interesting, and the people at 608 were patient with questions and enthusiastic to share their knowledge." – Brian, Garth's Brew Bar Beertender

"I love West Coast style IPAs, so I was super stoked that 608 had one ready for us to brew with them. The brewing process was great, but perhaps the most fun I had was tossing around possible beer names and label ideas. We came up with quite a few funny ones that didn't make the cut. Joking around and brainstorming with the 608 crew was its own adventure." – Erik, Garth's Brew Bar Bar Manager